MERLET Ring – Diamonds Catalan Alliance in Platin. A engagement laser Cutted Ring.
This Catalan Brilliants Alliance ring is constructed from a platinum lamina of 0.8 cut to laser. Then the trimmed surface is folded, as it were an origami procedure, to conform an uniform annular structure very strong itself with extremely precise gaps ready to hold the diamonds inside.
The 11 diamonds have been selected with a diameter of 2.5 mm with a certain degree of fluorescent property that gives them a intense fluorescent blue color  when exposed to invisible ultraviolets rays. The cut of the gem itself is perfect, as it is the mathematical model of Marcel Tolkowsky (ExtraRussian), with a noticeable effect of fire inside the stone when exposed at normal daylight.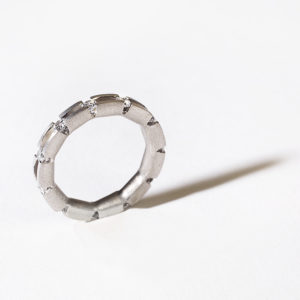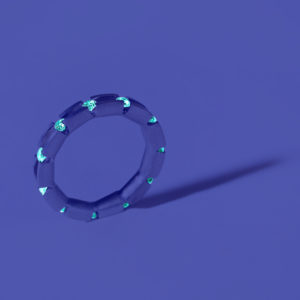 The basic Merlet Ring, has  12 battlements (11 diamonds). But it can be done with greater number of them.
Fluorescent diamonds are from Pueyo Diamantes, They are nailed to the ring by Raimon Alzamora and the platin laser cutting is done by Tamec. Photo done by LaFotografica